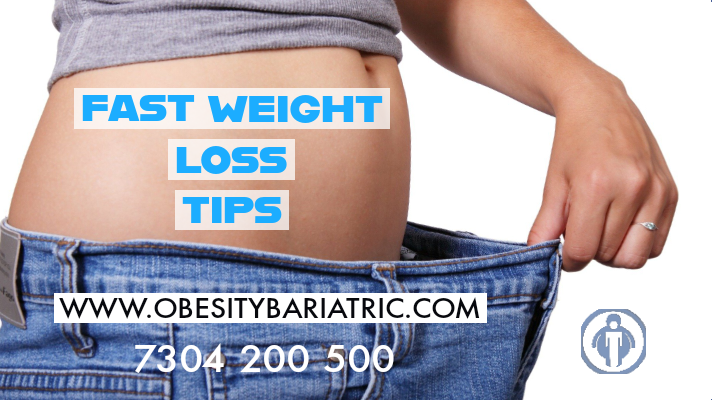 Fast Weight loss tips has always been a challenge for most people. Severe obesity can come with handful of diseases like diabetes, heart problems, knee pain, spine problem.
We discuss some common weight loss tips for fast results which will help you lose quickly. Here are those health tips
1. Cut down sugars
Eliminate all possible sugar containing food from your diet. Reduce sweets completely like gulab jamun, dates, halwa, and all sugary savouries
2. Eliminate carbs
Carbohydrates like glucose and excess intake of cereals like wheat bread, khakra, farsan can deter your weight loss journey. It is very important to decrease biscuits, cookies, and such high carbs from your daily diet for best results
3. Avoid oil and fat
Oily and fatty items are known to have high caloric value. Fried fries, chips, and foods like bhajiya, potatoe based starters, etc have high fat content. Stop them completely for rapid weight loss.
4. Drink lots of water
Water has zero calories. It cleanses your body from within. Eliminate all toxins and helps you rejuvenate. It is known fact to help you lose at ease.
5. Salads
Fresh tomatoes, cucumber, coriander, methi, fenugreek, broccoli are rich in fibers which helps in digestion and help you shed some extra kilos. Take advantage of such fresh salads before main course meals. Fill your plates with salads to reach target weight easily
6. Fruits
Fresh fruits are sources of vitamins and essential elements as well rich source of antioxidants. Fruits like apple, kiwi, mosambi, oranges, lemon are best fruits for weight loss. They can be accommodated in your diet certainly.
Some fruits like mango, custard apple, grapes are high in sugar so should be limited in quantity for right kind of weight loss.
However 95 percent people with bmi more than 35 or weight more than 100 kg are not able to lose despite strong efforts. They can consider options of weight loss operation on stomach for living long and healthy life