If you are contemplating weight loss Operation then this blog is a must read about diet chart plan for fast weight loss after Bariatric Surgery.
Decision is never easy as you have gone through lot of strong efforts to lose weight. But then at some moment one of your friend or family member suggested you Bariatric Surgery.
Click this Useful video with all possible diet instructions af Bariatric Operation
Everything will change, Your Diet & Life.
Food after weight loss operation are divided into 4 phases.
1. Clear Liquid Diet ( 1 to 4 says )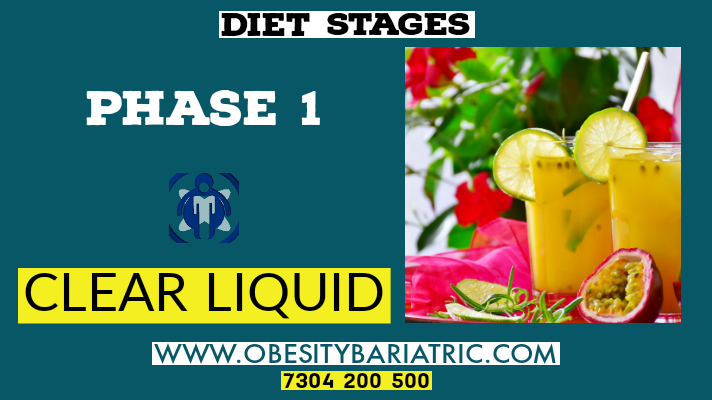 Immediately after Operation.
Be patient and very very slow. You need to get adapted to new normal. Some heaviness can be felt as expected due to decreased capacity of stomach.
Small amounts of 30 ml per hour on 1st day after surgery started in form of
Water
Lemon water
Coconut water
Diluted Pineapple juice
Apple juice
Mosambi juice
Liquid diet is increased upto 100 ml per hour on second to fourth day.
2. Pure Liquid Diet (4th day to 20th day)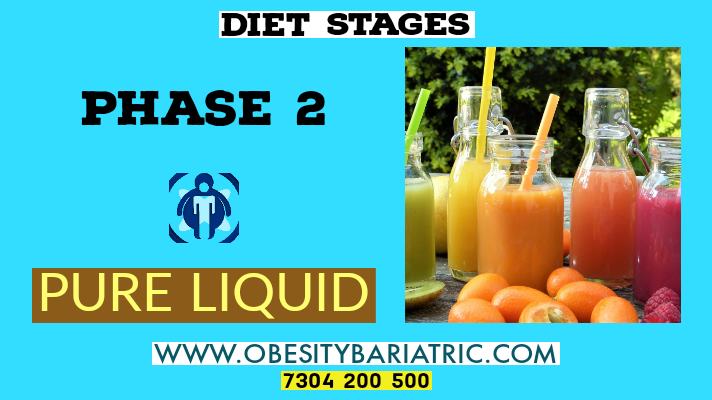 Full fluids in form of following can incorporated in your diet. It helps you stay hydrated and give you some essential vitamins.
Fresh Fruit juices
Protein powder with skimmed milk
Clear soups
Butter milk
Moong dal paani
Tur dal paani
3. Soft / Semi Solid Diet (20th to 25th day)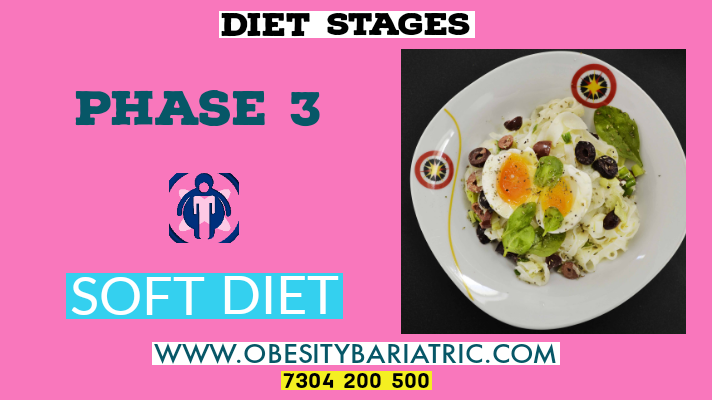 Now the variety is much more with taste.
Things become easy as you start getting back to your regular food gradually.
Khichdi
Upma
Poha
Daliya
Porridge
4. Solid diet ( After 25 days )
Energy levels are quite back to normal with routine food intake but quantity gets limited.
Be slow to start with. Chew it properly and take some time
Roti
Sabji
Boiled salads
Oats
Whole grain meals
Fresh cut fruits
Green leafy vegetables
Slowly your appetite and diet will rise.
Staying informed and be aware of your lifestyle changes beforehand will help you adjust to new normal as soon as possible.
Remember your battle will still continue with solid diet till your weight stabilizes somewhere in between 14 to 18 months after Operation.
This article is written by World Class Weight Loss Operation experts and Best Bariatric Surgeon In Gujarat.
We have regular clients walking in from Surat , Ahmedabad, Baroda, Bhavnagar, Rajkot , Bharuch, Navsari, Vapi, Mumbai, Indore.
Call 7304 200 500 for Your Fast Weight Loss
More about Food After weight reduction surgery
.